revive your autumn WARDROBE
revive your WARDROBE
ECO CASHMERE & WOOL CARE
ECO CASHMERE & WOOL CARE
best sellers
laundry strips
ZERO WASTE. ZERO MESS. 100% CLEAN LAUNDRY.
TLC LAUNDRY STRIPS
THE FUTURE OF LAUNDRY IS FINALLY HERE!
Are you looking to elevate your everyday laundry routine by giving your clothes an extra-long life-span? Our ultra-concentrated, non-bio TLC Laundry Strips are the future of minimal effort.
1 STRIP = 1 LOAD, SO THAT EVERY WASH IS KIND TO YOUR LAUNDRY AND THE PLANET. 🌍
No palm oil. No gluten. No plastic. No chlorine bleach. No parabens or phosphates. No added dyes. No fluorescent whitening agent. No preservatives or heavy metals. Free of 1,4-dioxane (as certified by independent laboratory tests). Recyclable packaging, biodegradable strips. Plant-based & cruelty free.
LEARN MORE
"I LOVE how the sportswear laundry wash and mist makes my gym kit smell like grapefruit, and that it's eco-friendly too!" - Melissa
"Absolutely brilliant products. Was a little sceptical at first but amazed after 1st wash. Better than the leading detergent manufacturers!" Sanya
"I was having problems with other laundry liquids irritating my skin but since I've used the TLC strips my skin issues have cleared up, brilliant!" Michelle
"Since I switched to The Lab Co. I noticed immediate results. My denim items are not fading and keeping their shape. And it's all natural and sustainable!" - Giulia
"OBSESSED with the Sleep Mist! Makes your bedding smell amazing and also helps me fall asleep which is an added bonus for someone who struggles to relax" - Sajiv
"So much more space in my laundry cupboard now! Lovely scents, the strips don't leave any residue in my clothes and clean them well. So much less packaging and no mess." Daisy
LOVE YOUR ITEMS,
LOVE OUR WORLD
At The Lab Co we are on a mission to tackle the huge global wastage problem by encouraging people to take better care of their fashion items. 
How? By creating laundry solutions that are...
BETTER FOR YOU: Beautiful essential oil driven scents... ZERO nasty chemicals and toxins.
BETTER FOR YOUR ITEMS: Specialist solutions for every need + much less abrasive than standard detergents. 
BETTER FOR YOUR WORLD: Eco-friendly formulas that reduce the need to wash or dry clean, protect your items and give them a much longer life!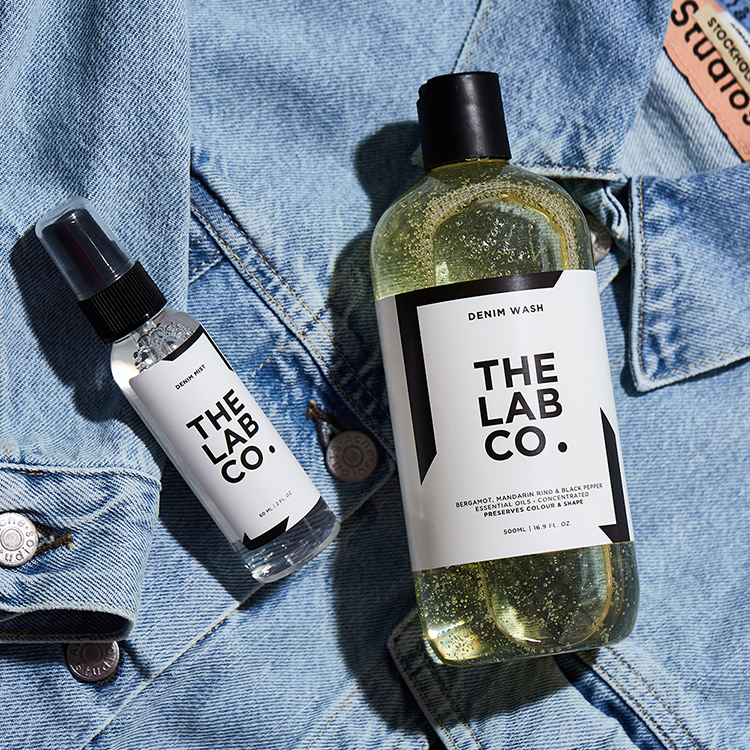 POWERFUL RESULTS
ZERO NASTY CHEMICALS
Many of the leading fashion care products are filled with toxic and abrasive chemicals such as OBAs, FBAs and phosphates. Although they appear to initially offer great cleaning results, over time they will damage the structure of fabrics, shortening their lives. That's before you even consider the negative effects they have on the environment!
At The Lab Co. we do things differently. We pair all natural ingredients with advanced technology to create fashion care solutions that deliver powerful results, without any harmful toxic or environmental side effects!
- Plant Derived Ingredients 
- ZERO Harsh chemicals & toxins
- ZERO Phosphates, OBAs and FBAs 
as seen in
YOUR COMPLETE
FASHION CARE RANGE
Sustainable: We combine natural, plant derived and biodegradable ingredients with leading scientific methods to create products that deliver powerful results without any harmful toxic or environmental side effects.
Specialist: Each specialist formulation has been created to protect the integrity of the fabric fibres, so whether it is a delicate silk, or odour filled activewear, our solutions will always gently but effectively deliver results.
Sensory: We harness the power of aromatherapy so
that not only do our products smell great, but they provide additional benefits; like our Sleep Wash that relaxes with Lavender and Chamomile, or our Cashmere & Wool Wash that uses Cedarwood to deliver a natural moth repellence.